Production Equipment for your Business
Production Equipment for your Business: The appropriate tools for the job are essential to manufacturing high-quality precast concrete products.
Adequate training to operate the equipment, thorough inspection, and maintenance are all necessary to ensure that the quality of the end product is not compromised.
The most typical production tools you'll require for your company are fabricating reinforcing steel, forming, and consolidation tools.
It just so occurs that this is the same machinery that deducts points from numerous plants during plant certification audits.
These facilities receive citations for not employing the right tools for the job, not using the tools properly, or for using tools that need maintenance.
Reinforcing steel fabrication
Steel bars that have been deformed are used almost universally by precast concrete manufacturers to reinforce their products.
Production staff must have the right tools to cut, bend, and secure reinforcing bars within the necessary fabrication tolerances while producing reinforcing cages and matting.
Equipment for producing reinforcing steel might be tiny, inexpensive portable devices or fully automated machinery that can create precisely bent reinforcing steel bars.
One must take a step back and consider the size and quality of the reinforcing steel utilized, the types and numbers of bends necessary.
And the daily production volume when buying reinforcing steel manufacturing equipment.
The needed shearing capacity of the machinery will be determined by the size, grade, and quantity of reinforcing steel bars commonly utilized at the factory.
More comprehensive machines can simultaneously cut more bars with a larger diameter.
Numerous pieces of equipment can cut and bend rebar simultaneously.
When buying bending equipment, one must consider the size, quality, and quantity of reinforcing bars utilized and the kind and number of bends needed.
Intricate bending tasks can be completed with machines with various pin arrangements.
Production staff must receive good instruction on how to operate the machinery. Usually, bending tools come with a variety of pins in various sizes.
Forms
The forming equipment is probably one of the most significant expenditures a precast concrete producer will undertake.
Numerous elements must be considered throughout the design phase, whether forms are bought from a source or made internally.
The ideal material and design for each form will be determined by the type of product and production techniques utilized at the factory.
Commercial forms are available for standardizing goods like maintenance hole sections or traffic barriers, although wood or panel forms are frequently utilizing to build customized products.
For casting prestressing and panel products, large casting beds with side channels are frequently using. These beds are generally making of steel or wood.
Concrete vibrators
Air can get trapping in up to 20% of newly installing concrete.
Therefore, concrete needs to be consolidating to guarantee that it will meet the stipulated specifications for strength, durability, permeability, and surface finish.
Vibration is the consolidation technique that is most frequently utilizing.
Vibratory impulses liquefy the mortar, substantially lowering the internal friction between aggregate particles, according to ACI 309, "Guide for Consolidation of Concrete."
As the mixture becomes unstable, trapped air can ascend to the surface and the heavier aggregate can settle forming a matrix with a high density.
Electric, gas, pneumatic, or hydraulic gear motors power vibrators.
Electric and pneumatic vibrators are most frequently employing within the precast concrete sector, while hydraulic vibrators are mainly seen on paving equipment.
Frequency and amplitude are two crucial concepts to understand when talking about vibrators.
Regarding rotations or vibrations per minute, the frequency is the number of vibration cycles each minute (rpm or vpm).
Lighter masses will be affecting by frequency, which will move sand and slurry around the aggregate and finally cause the mortar to liquefy.
The maximum distance a spot on the vibrating head can move from its resting position is the amplitude.
Greater amplitude will move coarse aggregate and, ultimately, change the radius of action or influence by impacting heavier materials.
The area of concrete impacting by the vibrator is knowing as the radius of action.
Table and surface vibrators
Internal vibrators may not be the most effective way to consolidate precast panels, as was already mentioning.
However, vibrator manufacturers provide shorter, wider heads for concrete consolidation in thin panel sections.
Architectural and panel manufacturers frequently consolidate concrete using huge surface vibrators or vibrating tables, depending on the polish required.
Concrete is frequently efficiently consolidating in thin products with a large surface area using surface vibrators.
While vibrating screeds consolidate traditional concrete mixes, vibrating tampers are occasionally employing for more challenging face mixes.
Upward consolidation is accomplishing. In actuality, finishing processes are aiding by the leveling action of vibrating screeds.
Screeds can be mounting to a track on the casting bed or manipulating manually by production staff.
Typically, vibrating tables are making of steel table with rigidly affixing external form vibrators to the supporting frame.
Steel springs or neoprene pads are frequently using to separate the table and frame from the base.
When placing and consolidating concrete, forms may be placing on the table or used as part of the table itself.
Also Read: 62.5 Kg to lbs – Definition and More
Related posts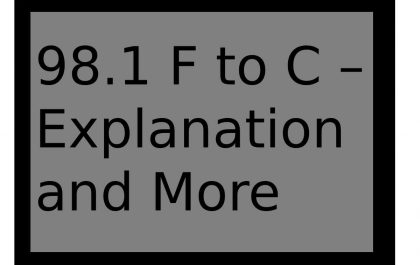 98.1 F to C – Explanation and More
98.1 F to C 98.1 F to C: Since 1 °F is equal to -17.222 °C, 981.1 °F is the…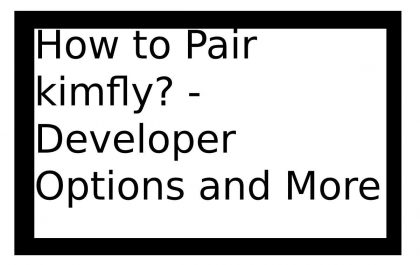 How to Pair kimfly? – Developer Options and More
How to Pair kimfly How to Pair kimfly: Tap the Apps icon to launch the Main Menu immediately. Find and…